CONVENIENCY YOU NEED FROM A TEAM YOU TRUST.
Our refrigerant recycling program facilitates the disposal of used refrigerant at no cost to you!
Here's how it works: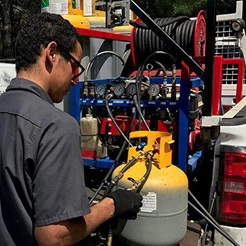 - Tank brought in has to be at least half-full.
- No fees apply for mixed gases.
- 30, 50, 125, and 250-lb. tanks qualify.
- Offered at all 3 locations during normal opening hours,
  Monday - Friday, 7:30 AM - 5:00 PM